History of the Caboose
Built around 1950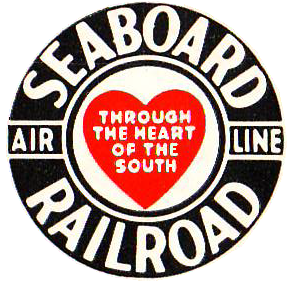 The Hocking Hills Caboose was built in 1949 or 1950 by the International Car Company of Kenton, Ohio. This company specialized in making cabooses and was one of the first manufacturers to build them with steel (versus wood) exteriors.
The caboose was built for the
Seaboard Air Line Railroad
and was one of 100 cabooses in a series numbered from 5600 (e.g., SAL5607). We do not know the original number of our caboose.
One of SAL's 5600-series cabooses in the early 1950s. While this isn't likely our caboose (there were 100), this would have been it's original livery and window layout. Photo courtesy DieselEra magazine.
Rebuilt in 1970

In 1967, Seaboard Air Line Railroad (SAL) merged with its long-time rival Atlantic Coast Line Railroad (ACL) to become the
Seaboard Coast Line Railroad - the Family Lines System
(SCL).
In the late 1960s, ACL was just finishing introducing its own modern line of steel cabooses, called the M-5 series. In 1970, SCL began a program to rebuild all the 5600-series cabooses to M-5 standards; these cabooses were called the M-6 series and were renumbered. (Our caboose was number SCL 01146.) Changes included new interior layouts reflecting the reduced need for sleeping bunks, new exterior window configurations, and a new, orange paint scheme.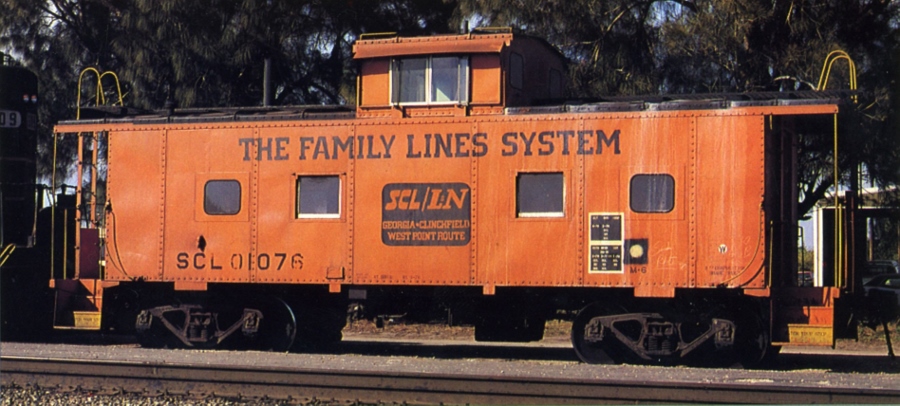 This is SCL01076, a SAL5600-series caboose rebuilt and renumbered by SCL to M6-series standards. All but 3 or the 100 5600-series cabooses were converted, including ours, which became SCL 01146 and looked just like this one. Photo courtesy DieselEra magazine.
1980s: End of Service
At some point in late 1970s or early 1980s, our caboose acquired its grey SBD Family Lines Systems livery (shown below). Our caboose continued in service as Seaboard Coast Systems became part of railroad giant CSX in 1986. But it's railroad days were numbered. Since the dawn of freight railways, cabooses were legally required for safety purposes. That began to change in the early 1980s, when new radio-based technology to monitor the trains and apply brakes made the caboose redundant. Railroads slowly started retiring cabooses as each state repealed their caboose-requiring laws. By the late 1980s, cabooses were a rare sight on railroads.

This is an M-6 caboose in its final SCL livery. Our caboose would have looked just like this when freshly painted.Photo courtesy DieselEra magazine.
1997: A New Purpose
As railroads retired their cabooses, most were sold for scrap and destroyed. Ours, though, took a different journey. By 1995, it ended up with 17 other out-of-service cabooses from all different legacy railroads at CSX's Parsons yard outside of Columbus. Needing to clear out these cabooses, CSX offered the Hocking Valley Scenic Railroad (HVSR) and its members the lot of cabooses for $300 a piece. They accepted, and the cabooses were towed to HVSR, where many were restored for railroad service and remain today. However, HVSR member John Holt had a new plan for his new caboose. He had it towed to a piece of land in heart of the Hocking Hills he owned called Steep Woods, for conversion into a guest cottage.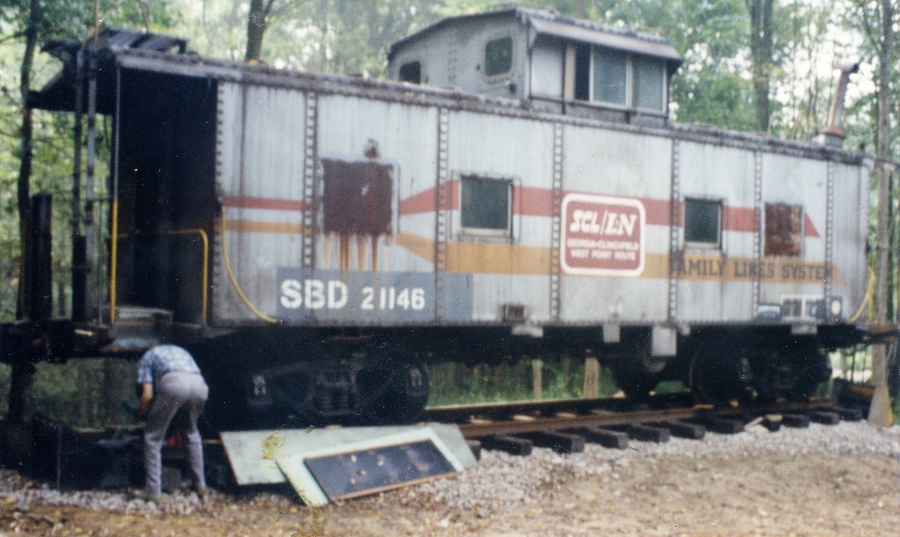 This is our caboose, The Hocking Hills Caboose, just after it was moved to its current home at Steep Woods. Note the caboose was renumbered from SCL 01146 to SBD 21146 when it became part of CSX.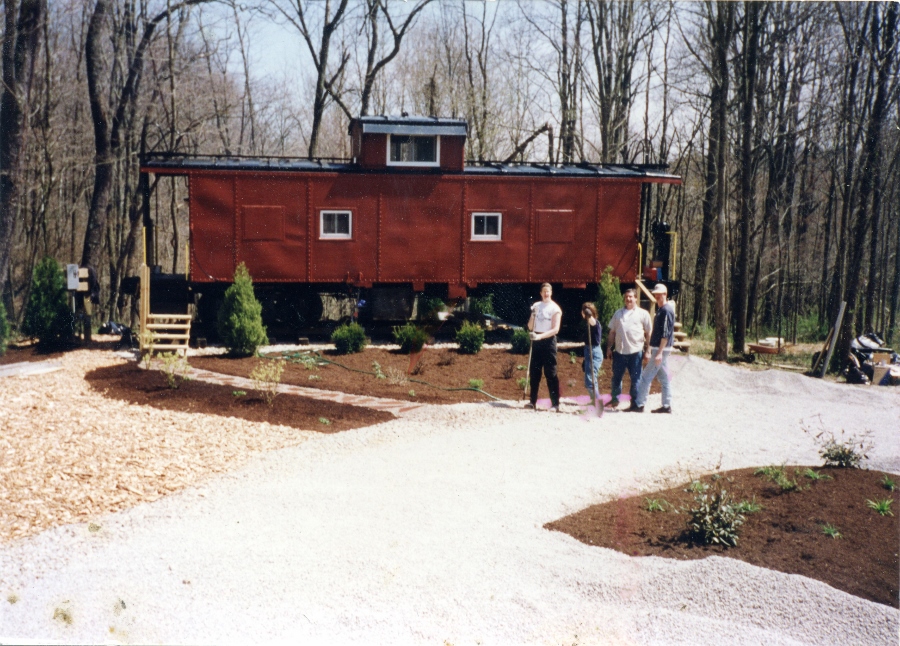 Here is the caboose ready to accept its first guests in spring of 1997 along with the folks who renovated it.
Renovated in 2016
With nearly 20 passing years since its original conversion to a guest cottage, the caboose was in need of some updating. The cabooses more traditional red & black color scheme chosen by Mr. Holt has been refreshed. Out front we've also updated the landscaping and added a new entryway with a more guest friendly set of stairs and landing as you make your way in and out of the caboose. Out back we've completely changed the experience of staying at the caboose by adding a large deck overlooking the private, wooded valley of Steep Woods. On the deck, you'll find a gas grill and a new dining set; perfect for al fresco dining, sitting outside to enjoy nature or late night star gazing. Inside, we've updated or replaced most of the mechanicals of the caboose. And visually, when you visit you'll notice all-new plumbing fixtures, lighting, flooring and décor (paint, bedding, towels, accessories, etc.). Check out our gallery here and our facebook page for pictures of the "new" caboose!